STEP 1

STEP 2

STEP 3

STEP 4
Customize your Cocktail Menu by selecting 2 of the 5 seasonal hand crafted cocktail options.
Enhance your experience by adding on any of the below 3 offerings for a complete bespoke craft bar delivery.
We source EVERYTHING from phone to door so add on coverage and infrastructure.
Let's learn a little about you to complete the delivery. If you have any questions, do not hesitate to visit with us through the Chat Box!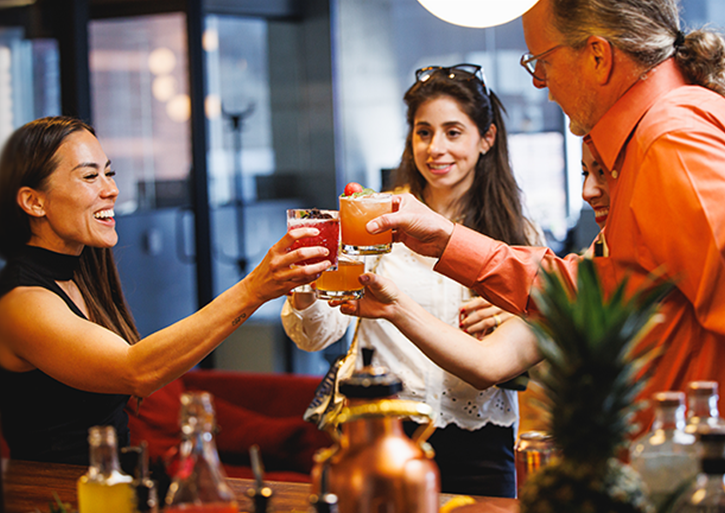 GATHER TOGETHER FOR A MEMORABLE EXPERIENCE
Getting the entire team together to celebrate a win, plan the future, or educate through an All Hands? We'll source EVERYTHING you need for a premium craft bar experience. Get a custom quote right here after completing 4 easy steps. Hint - Step 1 is the most fun — Pick 2 of your favorite cocktails to feature at your next company happy hour!
SELECT YOUR COCKTAIL MENU
Our packages start at $27.25 per person for a 2 hour event with 2 craft cocktails and 1 Non-Alcoholic cocktail. This includes the glassware, licensed mixologist, liquor liability insurance, premium spirits, fresh mixers, garnishes, and ice! Add Beer & Wine in Step 2!
*In Person Events have a 30 Person Minimum*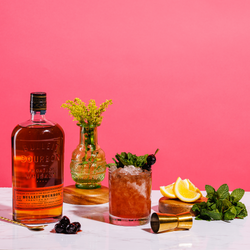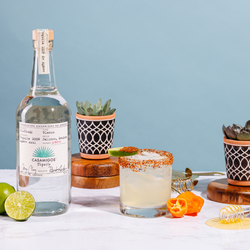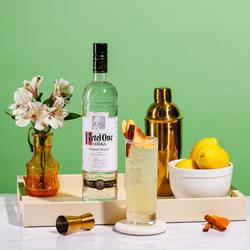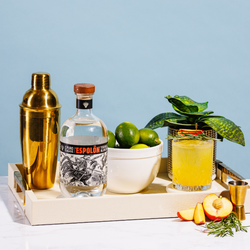 Peach & Rosemary Margarita
4100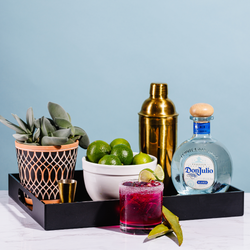 Prickly Pear Margarita
1463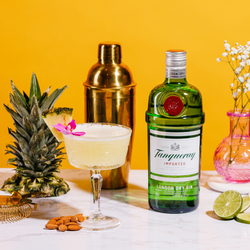 COCKTAIL TASTING NOTES
Cherry Whiskey Smash - A combination of Bulleit Bourbon, fresh-squeezed lemon juice, and our homemade muddled mint and black cherry syrups. This cocktail is loved by all!
Spicy Margarita - The Spicy Margarita balances just the right amount of sweet, sour and heat you look for in a margarita. Casamigos Tequila, fresh-squeezed lime juice, hellfire bitters and a homemade honey syrup combined to give you a margarita you'll be dreaming about long after it's gone!
Tea Off - Be your own cup of tea with the Tea Off. Ketel One Vodka, fresh-squeezed lemon juice and a homemade apricot-cinnamon syrup create an exceptional cocktail that will have you forget all about that ball in the rough.
Peach & Rosemary Margarita - This peachy and rosemary packed margarita will be a hit at your parties all summer long! Espolòn Blanco Tequila, fresh-squeezed lime juice, and our homemade peach tea syrup with rosemary tinctures create an amazing summertime sipper full of bright, fun, flavor.
Prickly Pear Margarita - The margarita is an all time favorite and this agave based cocktail gets yet another cactus ingredient added with our homemade prickly pear syrup! Don Julio Tequila and fresh-squeezed lime juice highlight the delicious and exotic taste of the prickly pear syrup. This bright pink drink looks as good as it tastes!
Royal Hawaiian - This tiki-esque cocktail combines Tanqueray Gin with fresh-squeezed lime juice, pressed pineapple juice and an orgeat syrup for a tasty and tropical sip.
TIPS & TRICKS
Most Americans prefer either a clear spirit (vodka, tequila, etc) or a brown spirit (bourbon, whiskey, etc). Picking one clear spirit and one brown spirit cocktail for the menu is the best way to please the majority of the team!
TIPS & TRICKS
Our team will arrive 90 minutes before the Happy Hour starts and will set the entire craft cocktail bar in your office! After the event, we'll clean and remove everything within 1 hour.
TIPS & TRICKS
Make everyone feel welcomed! In the next step you can add a Non-Alcoholic Cocktail Kit to your experience for team members that are not enjoying alcohol have a choice!
Add beer, wine, and a non-alcoholic cocktail to your menu
Want to offer a complete bar experience? Add craft beer and wine for $5 more per person. The
non-alcoholic cocktail is free as we want to ensure everyone feels welcome at the bar!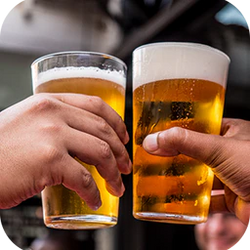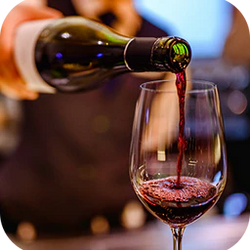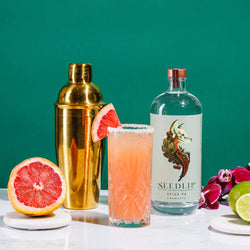 Non-Alcoholic Option
Seedlip Pa-No-Ma
Complimentary
0
COCKTAIL TASTING NOTES
We'll bring two craft beers along with red & white wine for your event! Have questions? Click the Chat Box and we'd love to help you customize your experience!
TIPS & TRICKS
Adding in beer and wine provides your guest with a complete selection of choices for how they'll enjoy your time together!
TIPS & TRICKS
Make sure everyone feels welcomed at the bar by having a Non-Alcoholic option available!
Choose your add ons with no added cost!
Complete the experience with a hand built wooden bar, premium Libbey glassware, and the security of
our $6M Liquor Liability Coverage. It's all part of our package to source EVERYTHING you need!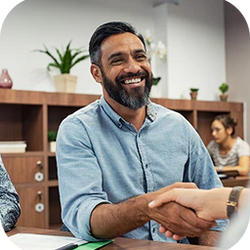 Liquor Liability Coverage
Complimentary
0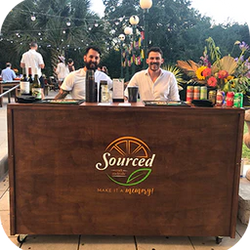 6-Foot Wooden Bar
$200
20000
Event Add Ons
No bar or glassware in the office? No problem! We'd be honored to source our 6-foot wooden bars with rocks, collins, flute, and coupe glasses at no added costs!
TIPS & TRICKS
If your event is outdoors, we recommend not adding glassware due to breakage. Don't worry, we have premium plastic Sourced cups that are eco-friendly we'll bring instead!
TIPS & TRICKS
When serving alcohol in the office, it is super important to ensure you protect your organization from liability. We got you covered and at no added costs!
SCHEDULE YOUR DELIVERY
In three steps, we'll learn the details of when and where to deliver this turnkey, customized cocktail experience.
PROVIDE YOUR EVENT DETAILS
MY DETAILS

MY GROUP

MY LOCATION
Let's learn a little about you to complete the delivery. If you have any questions, do not hesitate to visit with us through the Chat Box!
Your Order Details
Google Birthdate Event
FOR
100

PEOPLE
1/25

@

6PM - 9PM
ITEM
QUANTITY
Total $5,400
($54.00 per person)